TGM-FL Platform type dispersing machine
Scope of application: high efficiency equipment for mixing, dissolving and dispersing two or more liquid and powder materials

Materials: suitable for paint, paint, ink, dye, paper, dye, pigment, glue and other chemical industries
The platform type disperser has the function of dispersing and mixing, which belongs to the product of mass production; the equipment is equipped with frequency converter (stepless speed regulation), which can run for a long time with stable operation and low noise; the dispersion plate is easy to be disassembled and can be replaced with different specifications and types according to the process characteristics; the lifting structure adopts the hydraulic cylinder as the actuator, which is stable in lifting, and selects the integrated oil tank and ring The product is an excellent equipment for solid-liquid dispersion and mixing, which is very suitable for mass production.
Performance characteristics
1. Well designed new and efficient mixing and dispersing equipment
2. 360 degree rotation, meet one machine two cylinders, greatly improve the work efficiency
3. Structure of quiet and stable hydraulic lifting system
4. According to the process requirements, it can be equipped with heating and cooling devices
5. The parts in contact with materials are made of high quality stainless steel
6. Specifications can be designed and manufactured according to customer requirements
7. Explosion proof motor / frequency control, safer and more stable
The platform type disperser drives the dispersing plate to run at high speed through the motor, so that the material presents annular flow and produces strong vortex, which descends to the bottom of vortex in spiral shape. The strong shear impact and friction between the particles can achieve the functions of rapid dispersion, dissolution, uniform mixing and emulsification. With a rotating motor and limit sleeve, through the rotation of the disperser, it can cooperate with any cylinder block around it.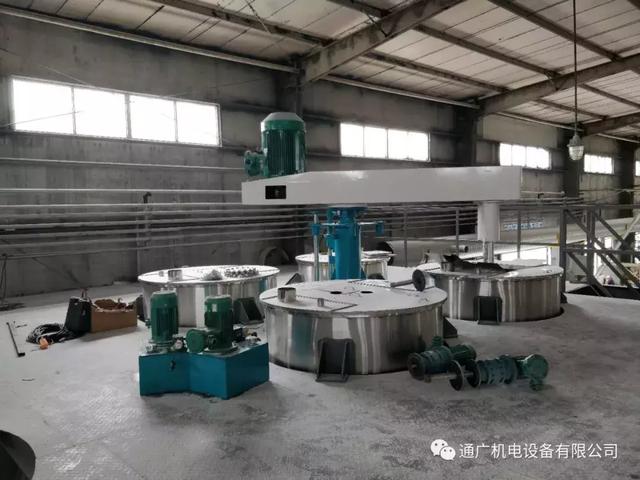 Guangdong Jiangmen waterborne coating customer order 75kW flat table type disperser
[name of raw material]: waterborne coating
[fineness of finished product]:
[customer evaluation]: the platform construction, machine installation, including on-site installation, after-sales personnel coordination is in place, and I am very satisfied with the effect of equipment use!!!
model

Motor power

(kw)

speed

(rpm)

Diameter of dispersing disk

(mm)

Treatment capacity

(L)

Pump power

(kw)

Lifting stroke

(mm)

Equipment weight

(kg)

TGM-FL75

75

0-1200rpm

450

2500

2.2

1500

2100

TGM-FL90

90

0-1000rpm

600

5000

3

1800

2600

TGM-FL110

110

0-1000rpm

600

6000

3

2200

2800

TGM-FL160

160

0-1000rpm

600

7000

3

2500

3000

TGM-FL200

200

0-1000rpm

600

8000

3

2800

3000